Antigravity YTZ7-8 Battery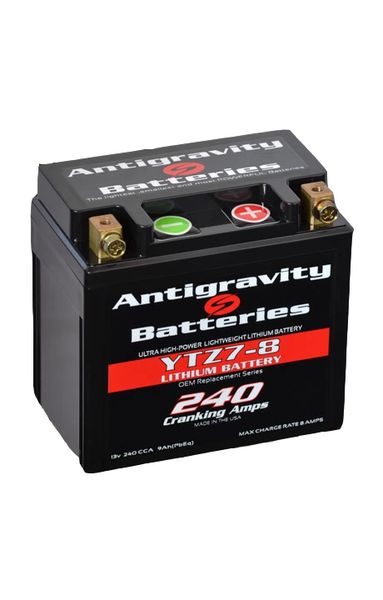 Antigravity YTZ7-8 Battery
8-Cell Lithium Ion Motorcycle Battery is used and trusted by Chad Wienen and the Wienen Motorsports Team.
---
The Antigravity YTZ7-8 Lithium Motorsports Battery is a Hi-Power Lithium Replacement for the OEM Lead/Acid YTZ7S found in so many bikes including most all Enduros. But the Nano-Phosphate Lithium Antigravity YTZ7-8 offers massive weight savings over Lead/Acid version and has over TWICE the cranking amps resulting in much better starting performance with a faster turn-over of the motor and higher voltage on start up. In addition the YTZ7-8 Antigravity Battery offers a big weight reduction.
---
Features:

Direct drop-in Lithium replacement for OEM Lead/Acid YTZ7S.
High Power, Ultra Lightweight Lithium Nano-Phosphate Motorsport Battery.
Double the power and 50% weight savings over Lead/Acid Version.
Over 35% more Power than the comparable Shorai battery.
Can hold a charge up to a year provided there are no "Parasitic Drains" (accessories that draw power when the bike is off…such as alarms, ECUs, iPods, GPS, heated grips etc…)
Built in the USA to high quality standards with unbreakable terminal design.
3-Year Warranty standard use. View Antigravity Warranty Terms.
Waterproof.
---
Best Uses:

Capable of every day use in bikes up to 600cc.
Race use for Enduro and MX electric start bikes up to 800cc.
Race and Track Day use up to 1200cc (If you have a higher-performance motor choose the Antigravity AG1201).
Custom builds like cafe racers or small bore customs up to 800cc. (Please note if you own an older classic bikes from mid 1980s and earlier you should update the charging systems to a modern voltage regulator if you have the older style system with a voltage regulator. Damage can occur if overcharged.)
---
Technical Details:

240 Cranking Amps
9Ah (PB Eq)
---
Dimensions and Weight:

USA SIZE: 4.25″ Length x 1.25″ Depth x 3.75″ Height (Height is measured to the top of the terminal bolt heads)
USA WEIGHT: 16 oz
METRIC SIZE: 113mm Length x 70mm  Depth x 105mm (Height is measured to the top of the terminal bolt heads)
METRIC WEIGHT: 448g
---