Antigravity Battery Charger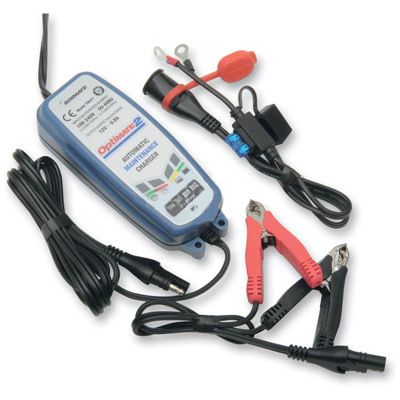 Antigravity Battery Charger
Optimate 0.8Amp Lithium (LIFEPO4) Maintenance Charger TM-471
Antigravity Batteries is happy to offer the Optimate LFP4s 0.8Amp maintainer/charger for 12V Lithium Batteries! It's a lower amp charger but still charges or maintains All 12V Antigravity Batteries as well as other brands of lithium batteries. A great, cost effective charger for your lithium battery maintenance.
---
Overview of Tecmate Optimate Lithium Maintenance Charger 0.8 Amps - TM471
The most cost-effective solution for long-term maintenance of 12V lithium (lifepo4) batteries in any vehicle stored in or outdoors.

Very easy to use, simply connect to the battery and plug it into the nearest power socket, the rest is fully automatic.

Automatically brings the battery to full charge with 0.8A constant current and then switches to the unique OptiMate battery-saving maintenance charge mode to keep the battery at 100% ready and at the same time provides power to the on board computer, display or antitheft alarms.

Recommended for Lifepo4 lithium battery brands.

Weatherproof and lightweight weighs in at 1 lb.

Includes permanent ringlet connector with weatherproof cap and a set of battery clips.

Includes all safety features such as reverse polarity protection, no spark connection; approved to UL and CSA safety standards for automatic battery chargers; fully-automatic
Included Items:(1) Fully automatic battery charger with harness and positive and negative clamps, (1) Direct connect fused harness.
If you prefer a faster charging unit see the 5 amp Optimate Lithium Charger that provides testing and recovery of lithium batteries. Model TM-291